Kula Cloth brings a unique and stylish solution for drying your nether parts after squatting down to pee. It allows you to leave excess toilet paper at home and doesn't impact your pack weight negatively. Kula Cloth is easy to hang on your backpack or trekking pole while moving and you can fold it in half with the double snaps for added privacy and cleanliness.
Using Kula Cloth is a cakewalk. After peeing use the dimpled black and absorbent side for drying leftover moisture. The printed side is waterproof so your fingers will stay dry during the process. After you have finished your business you can hang Kula Cloth to dry with the snap closure. It's important to note that you should only use Kula Cloth for wiping residual pee moisture. We recommend Culo Clean portable bidet for cleaning between the cheeks.
On shorter trips for a day or two it's not necessary to wash your Kula Cloth. Simply toss it in the washing machine after you get home. On longer hikes it's a good idea to wash the cloth with, for example, Sea to Summit Wilderness Wash and hang it up to dry. Let's just keep in mind the good practices of Leave No Trace take care of washing some distance away from water sources.
There is reflective thread sewn in the corner of Kula Cloth which makes it easier to locate it in camp when it's dark. The materials are antimicrobial and chosen with safety and eco-friendliness in mind.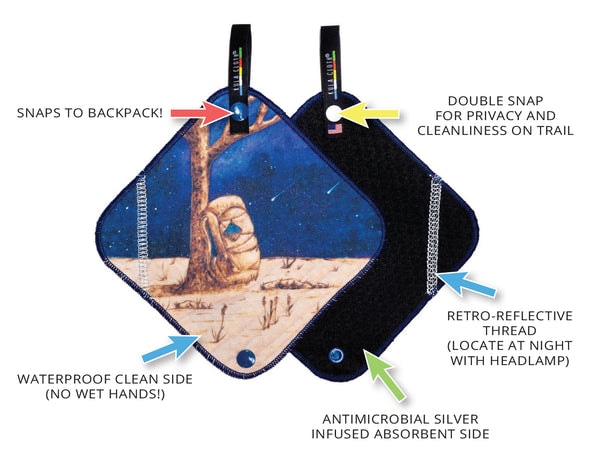 Features
Weight: 14 grams
Dimensions: 14 cm x 14 cm
Absorbs up to 10 times its weight in water
Antimicrobial, silver-infused fabrics
Made out of bamboo viscose, cotton and polyester
Reflective thread for locating it at night
Made in USA
Check out Kula Cloth's FAQ section for more detailed information.