Are you dreaming of a hike in Lapland, but don't know where to start? Are you interested to understand if ultralight hiking is applicable for Nordic conditions? We are here to help you.
Why trust us?
We have a long experience in hiking in Scandinavia and the Nordics, ultralight way. Before launching Farlite, the author has worked as an outdoor journalist, writing multiple books, magazine articles and blog posts on hiking in the wild places of Lapland. He wrote the first book on ultralight hiking in Finnish language, and has been blogging about ultralight hiking for many years.
Our main hiking grounds are in Finnish lapland, but we often visit also Sweden and Norway.
Lapland hiking – where to go?
We are assuming you have done some hiking in your home country before. This means sleeping in a tent, following a trail, enduring a rain storm and so on.
The first choice to be made is if you want to hike on trail or off trail. As Lapland offers a lot of untouched and unmarked wilderness, we encourage you to do an off-trail hike if you are somewhat confident in your navigation skills.
On-trail hiking destinations
There are also multiple trail options in Lapland. Here are some of our favorites:
Lemmenjoki trail: Int eresting history of gold mining and beautiful nature intertwined. Start from Njurgulahti, follow the river south and take the circle trail to the fells.
Kungsleden: plenty of hikers makes this a safe trail. It is a long trail, so we suggest hiking only a part of it
Hetta-Pallas: Finnish trail classic. Only 55 km, so you can continue your trip to Pöyrisjärvi wilderness area if you wish to spend more time there. Can be crowded at peak season.
Kevo Route: Another Finnish classic in the Northern Tundra. We recommend the side-trip to Guivi.
Sevettijärvi-Pulmanki: a less known an thus less crowded trail for those who want to experience true wilderness but still wish to have a trail to follow.
Kilpisjärvi-Halti trail: Often considered as the best hiking trail in Finland. Stunning arctic scenery and possibility to hiking in three countries, as the Finland-Sweden-Norway triple border is close by.
Off-trail hiking destinations
What about off-trail hiking? This is truly the best, as trails in peak season can get crowded. Off-trail, you can hike for days without seeing anyone. Hone in on your navigation skills, and see some of our super-secret tips later in the article.
These are some excellent options for off-trail hikes:
Urho Kekkonen National Park: The heartland of Lapland hiking, with stories of wilderness life spanning across centuries. Start at Saariselkä or Raja-Jooseppi. Even better, take an invite taxi from Savukoski to Kemihaara, one of the most remote inhabitations in Finland. From there, hike through the deep spruce forests to Sokosti fells, and all the way to Saariselkä.
Kebnekaise region: Swedish arctic mountain tundra, stunning views and great stories. Start at Nikkaluokta or Abisko, and hike across the region or make a round trip.
Muotkatunturi wilderness area: Start from Muotkan Ruoktu, and make a round trip through the stunning rolling plains. Sleep in the forest, marvel the passing of reindeers. This is a place where many people return year after year.
Vätsäri: As remote as remote gets. Make sure you have a GPS and a backup, as this is a labyrinth of talus and small lakes. Vätsäri has a special meaning in the ears of Finnish hikers – it is a place where beginners don't dare. Difficult terrain is complimented with complete solitude – you will not cross paths with others here.
Sarek: Europe's largest wilderness. This is where arctic expeditions train in the winter, and where countless stories are born. Strong winds, wild landscapes, very little people. For some reason, a trip to Sarek always has a way of turning into an adventure. For experienced hikers only.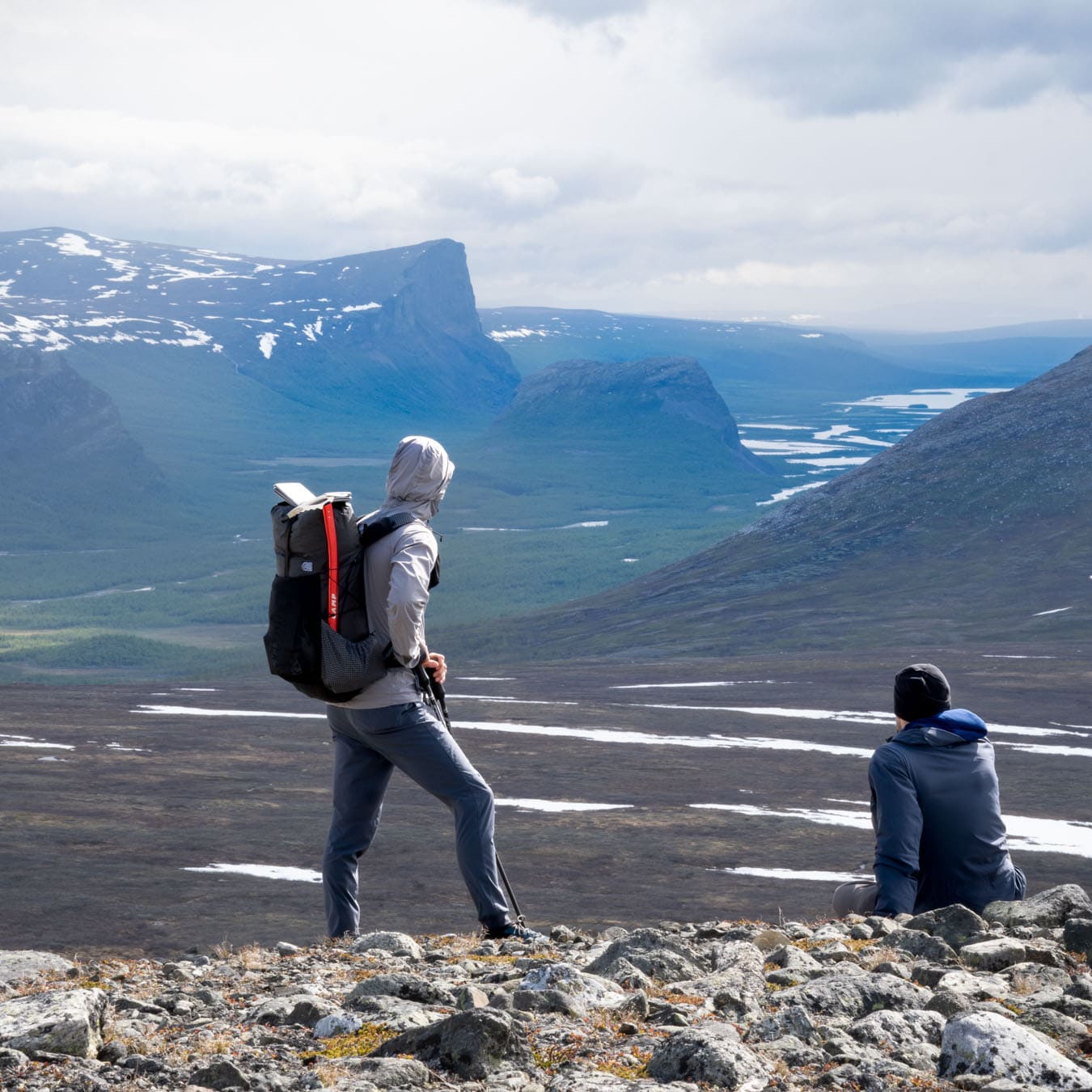 When is the best time to go hiking in Lapland and Nordics?
Three season hiking months are June, July, August, September and October. Here are some characteristics for each months in Lapland:
June: Excellent hiking month, if you follow these instructions: Start your trip on second week of June. This is when most of the snow has melted. Head to destination where elevations are below 1000m. Urho Kekkonen NP, Muotkatunturi and Hetta-Pallas and would be good choices.
Above 500m of altitude you still have snow, but you can often walk on it. Do not go to forest lowland destinations and avoid difficult stream crossings, as all the snow melt water runs there. Avoid hiking after June 20th, as this is roughly when the mosquitoes hatch.
July: Not the best hiking month in our opinion, as the bugs are plentiful. Always take a headnet, bug spray and a tent with a mosquito-proof inner tent.
The temperature swings can be wild, as it can get 30 C or drop down to freezing at night. Usually it is quite warm, but you still need to wear long sleeves due to the bugs.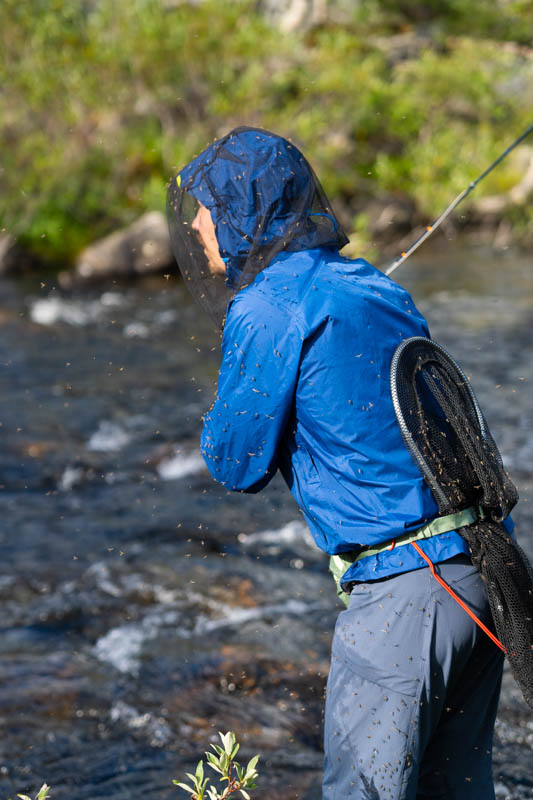 August: High-season and the best time to hike. Moderate temperatures, and especially at the end of August the bugs are starting to diminish. A great time to hike.
September: Fall colors, and an excellent time to hike. During cold nights it could drop down to -5 C and even lower at the end of September. Usually the night temperatures are around +2.
Traditionally, the best week to see fall colors is the second week of September, and we also recommend either the first or second week.
October: Off-season. The fall colours have faded, and there is not a lot of people on the trails. Good if you wish to hike on a popular trail but without crowds. You might come across a beautiful first snow, but also a terrible sleet storm. On a cold spell it can get quite cold, so ensure you bring adequate sleeping bag.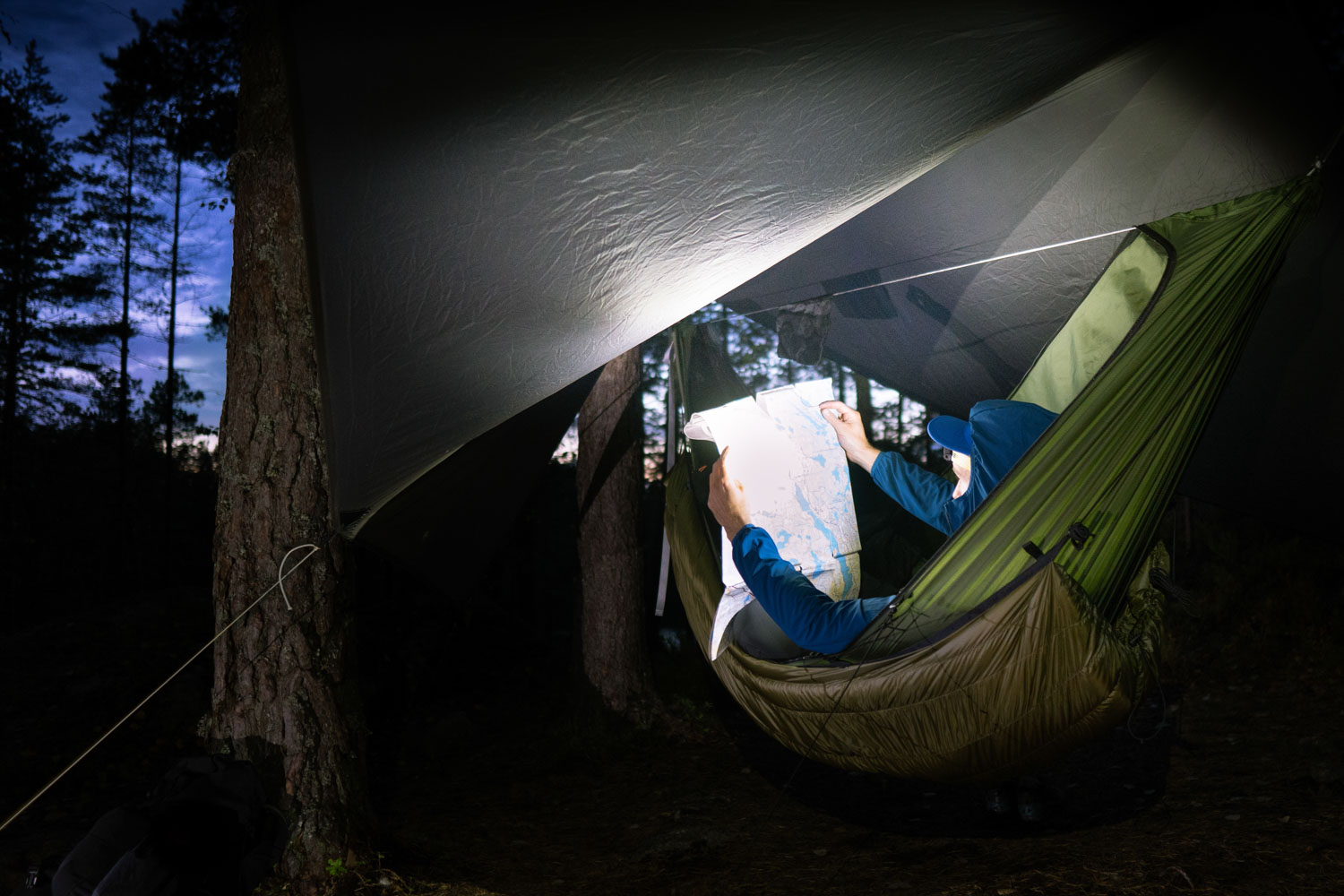 How to get to Lapland hiking destinations?
Of course we cannot cover everything, but here are some good tips:
Fly to Ivalo. From there you can take a bus or taxi to Saariselkä, Raja-Jooseppi, Nellim and many other destinations. If you are on a budget, you can even start hiking directly from the airport, although of course you can't take any fuel to airplane.
You can see Finnish Lapland bus timetables at Matkahuolto or Eskelisen Lapin Linjat
A second flight destination is Rovaniemi, with good bus connections further north, even all the way to Northern Norway.
In Sweden, a good option is to fly to Kiruna and take a bus to Abisko or Nikkaluokta.
What are some secret tips to make your hiking trip easier?
The first tip is to make sure you have offline maps downloaded on your smartphone. This will make your navigation 100% easier and take away stress from the experience. The tested applications are Locus Map, Orux maps, Jahtikartta and Karttaselain. You can download Finnish maps for Android devices for free here.
For trip planning in Finnish Lapland, an excellent tool is Excursion Map. Make sure to turn on "Excursion Services" from Map layers. This will show you 95% of wilderness huts and lean-tos! You can also see all hiking trails in Finland by selecting the map layer "Summer hiking routes"
A similar service for Sweden and Norway is Lantmäteriet Min Karta.
Speaking of huts, the excellent and exciting part of hiking in Finland are the free open wilderness huts. The doors are open to all visitors (excluding commercial groups). These provide comfort and safety also to the less experienced hikers.
A cool idea is to spot a remote wilderness hut from Excursion Map, and plan a hike there. I will give you some recommendations for such a trip:
Postijoki hut, Lemmenjoki NP
Pöyrisjärvi hut, Pöyrisjärvi Wilderness area
Taapmajärvi hut, Käsivarsi Wilderness area
Kurtojoki hut, Muotkatunturit Wilderness area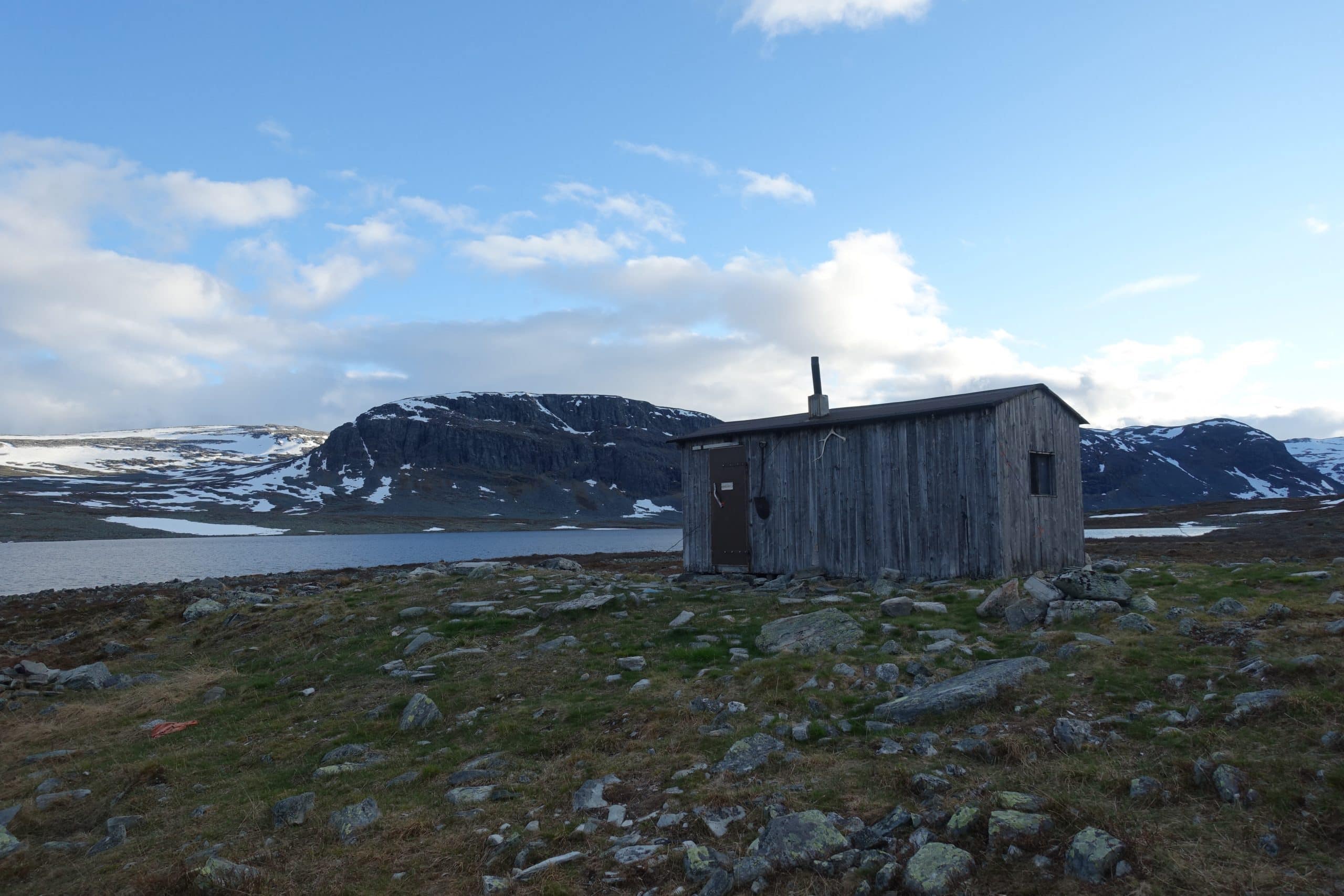 Read the etiquette for using open wilderness huts, and strictly abide to it. All experienced hikers do the same.
There is nothing really dangerous or poisonous in the hiking environment of Lapland. No ticks, snakes or poison ivies. Bears in the Nordic countries are afraid of people, and it is a true miracle if you see one. During fall the reindeers have a mating season, and it is best to steer clear of aggressive male reindeer (and moose if you happen to cross paths).
Does ultralight hiking principles work in Lapland?
Absolutely! Ultralight hiking works like charm in Nordic Lapland. There are even some key things that make it more applicable here than in US or Continental Europe:
Potable water is everywhere. There is usually no need to carry water.
Hot conditions are rare, so you don't need to carry shorts, sun hats, etc.
No need for bear canisters or spray.
The availability of open wilderness huts is a blessing in case of screw-ups. You can always dry gear or get warm in one of these huts. Usually a hut can be found in a long day's hiking distance (if you are aware where they are located).
Forested areas are protected of strong winds. Winds in Finland are usually quite benign, in mountaineous Sweden and Norway they can be stronger.
A 5 kg base weight is quite typical for local ultralight hikers, and all the usual ultralight strategies work. You don't need a water filter, just be smart with from where you drink.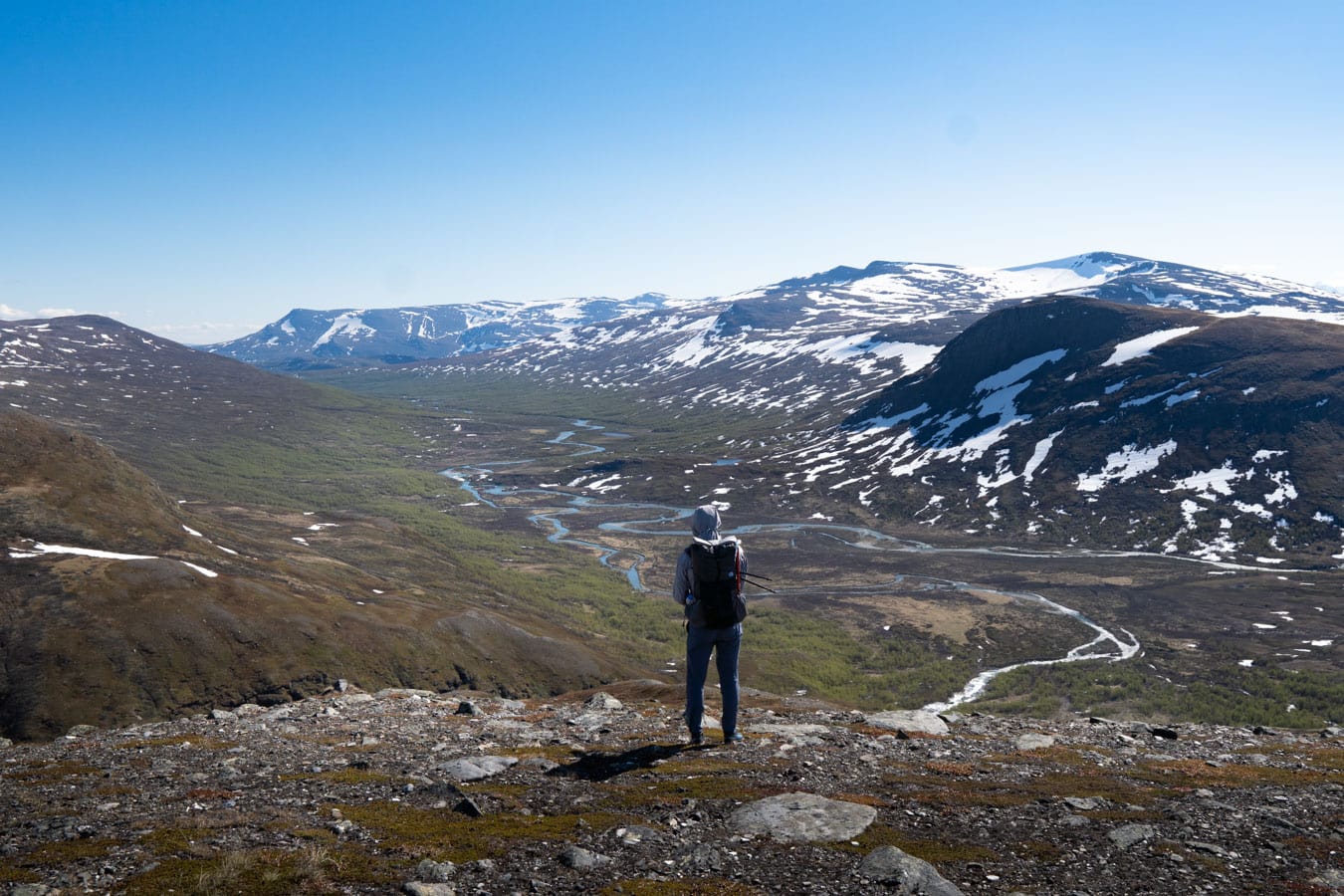 Some considerations:
Navigation is key in off-trail hiking. Bring an ultralight power bank to power your phone. Keep it in flight mode to conserve battery.
Your feet will get wet during the first 100m of off-trail hiking. I repeat, your feet will be wet, pretty much 100% time while hiking. Don't worry about it. Despite this, local hikers often use trail runners and light wool socks. Your feet are not made out of sugar, and it will be fine as long as you can dry them in dry socks overnight. Your feet won't get cold while walking. Working your way through difficult terrain is part of what makes wilderness experience so rewarding. Take some bread bags to protect your dry sleeping socks from wet shoes while in camp.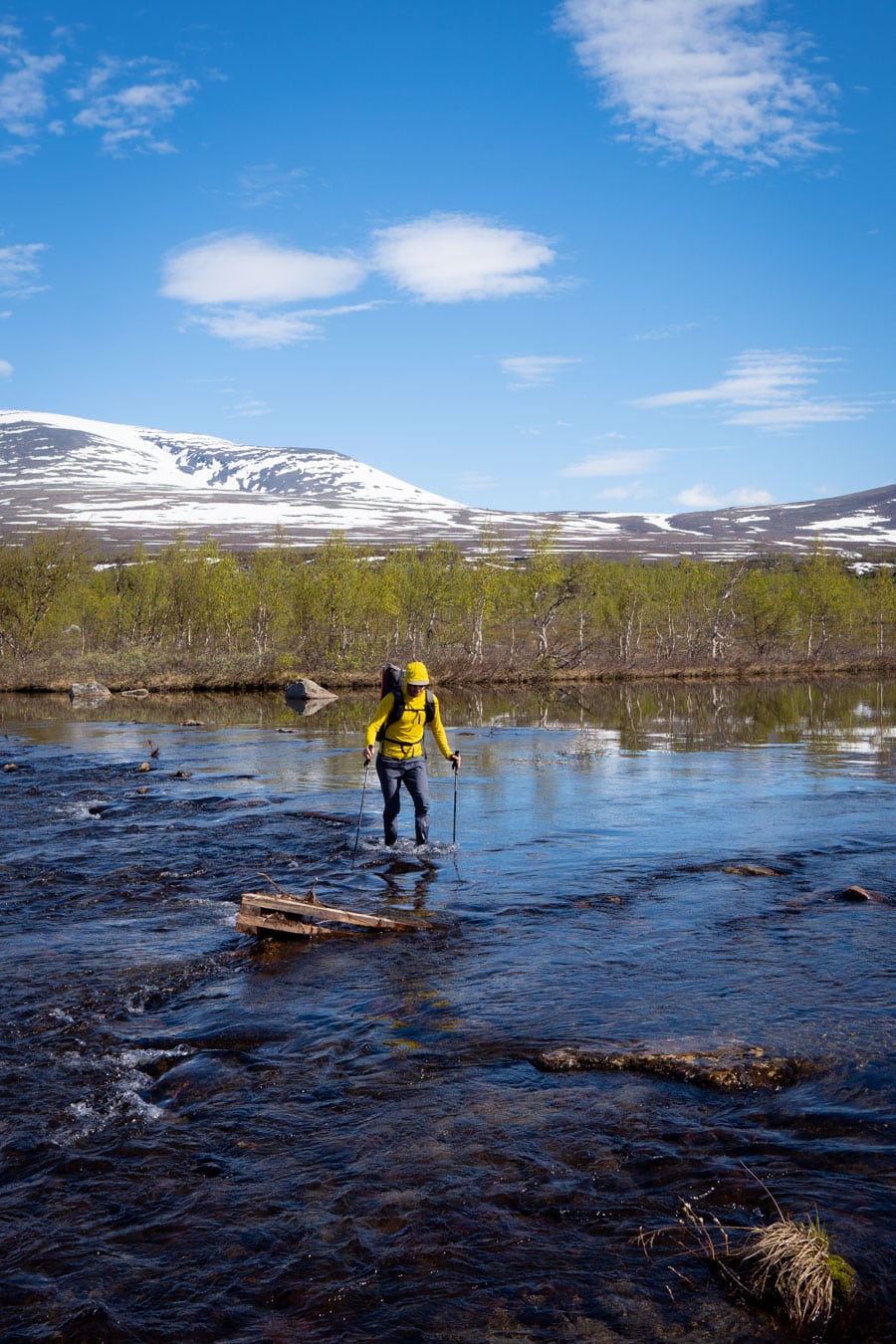 Hiking poles are very valuable in off-trail hiking to gauge swamp depth and catch trips and falls. Of course you can pitch your tent with them as well.
It will get cold at night, even in summer. Bring an adequate sleeping bag or quilt. A temperature rating of -2 is a good starting point. Protect your sleeping bag from moisture as well as you can.
For clothes, a pair of softshell pants, a thin Power Grid fleece and a wind jacket is usually what we go for. Softshell pants will take the beating from underbrush but dry quickly enough. In late fall, an extra merino shirt and long bottoms will be added. For camp, you will need an ultralight down jacket. Also take light gloves, a beanie and a buff.
It is a good idea to take a knife and know how to use it to light a fire. There will be opportunities to light a fire, and if you use wilderness huts, you should always leave some feathersticks or birch bark for the next person to start a fire. The knife does not have to be a burly survival knife, but an ultralight one can suffice.
Bring a map and compass always. It is too easy to break or drop a phone, and you need a second way to navigate out. You can buy Finnish maps at Karttakauppa and Swedish and Norwegian maps at Calazo.
When it comes to ultralight shelters, there are multiple situations. For forested areas you will be fine with an open tarp. The situation gets trickier in open mountaineous landscapes such as Sarek, Kebnekaise, Käsivarsi Wilderness Area or Norway's alpine areas. There we recommend a pyramid tent or other windproof shelter type.
Traditionally locals use tunnel tents, but nowadays ultralight shelters are becoming more commonplace. 99% of time they will work fine, but be prepared to hike to treeline in case of a unexpected storm. Our choice is usually a pyramid tarp, which is solid even in high winds.
If you are hiking between June 20th and August 20th, absolutely do not skimp on a mosquito headnet. It weighs nothing and can save your mental health. Of course also bring a mosquito net for your shelter these times, and even mid-September that is a good idea.
It is a good idea to also read through our gear guide to understand the best gear for the conditions.
Where can I get more information?
Some excellent further reading in English include:
Last but not least: Good luck! The first trip to far north will be a great adventure, but don't worry, real risks are small and with normal safety precautions everything will be alright. Enjoy the hike!