A warm welcome to Farlite webstore! In this post, we are going to give you tips on our favorite gear and the products that usually end up in our European customers' carts.
Are you interested in lowering the weight of your pack for the next hike, but don't know where to start? Here are some tips of our favorite products, and some of our best recommendations. We use this gear in our own European hikes, and it is something you can find in other ultralight hikers' backpacks.
Our recommendations are based on extensive hiking in the Nordic Lapland and Northern European conditions. These experiences guide our choices. Before Farlite, we have been writing books and articles on Scandinavian and Nordic hiking for many years.
If you are new to ultralight, we recommend checking out our article What is Ultralight Backpacking. It gives a good first view on what is meant by the term. Check also our post Ultralight 101, which gives practical tips on ultralight hiking.
Camp cooking
First easy update to lighten your load is to update your cookset. Titanium pot, light canister stove and a long-handled spoon is a typical ultralight hiking cookset. These are all long-term investments that will last you many years.
We recommend Evernew 900 ml titanium pot, which is just the right size for camp cooking. The Evernew pots are ultralight marvels of precision engineering. You can also go with a smaller pot if you only boil water and then pour it in to freeze dried meal bags.You can also use titanium pots on campfires.
For two people we recommend a larger 1300-1600ml pot. If Evernew pots are over your budget, Toaks 900ml and 1300ml will do the trick just fine.
A good stove choice is a canister gas stove. We recommend Soto Windmaster, as it works especially well in windy open landscapes. Soto Amicus is an excellent second choice, and also very popular. You can find comparisons of the two stoves here. The main differences are that Windmaster has slightly more power, better efficiency with wide pots and easier simmer. Amicus packs smaller and is less expensive. For minimalists, we stock the tiny BRS-3000T.
Utensils are best kept simple. Aluminium and titanium are both good, plastic tends to break. Our favorite is Sea to Summit Alphalight Spoon Long. It has a long handle that allows you to scrape the bottoms of your food pouch without getting your hands dirty. Titanium spoons are another slightly more durable choice. For warm aesthetics, some people prefer wooden spoons.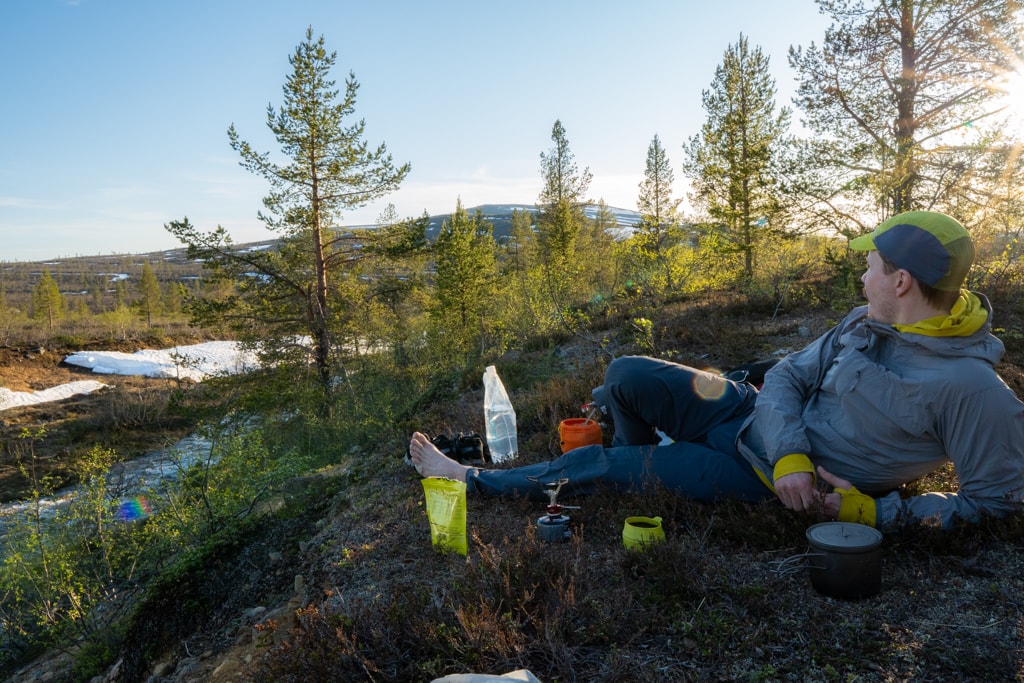 Sleeping
The weight gap between sleeping bags and quilts is closing quickly. Premium sleeping bags with ultralight fabrics have become a standard in the market. Sleeping bags are always slightly warmer due to the closed back, but quilts are slightly lighter due to the lack of zipper. The fabric amount is usually quite the same.
Our favorite sleeping bag currently is the Sea to Summitin Spark SpIII. It has 430 grams of high quality down, which is a lot considering the total weight of the bag at 665 grams. With this down amount you reach Limit-value of -2, which is just right for autumn in the far north of Lapland. The fabrics are light, but the zipper is full-length for warm nights in huts or summertime.
You can also find women's version Flame FmIII with better fit in the hip area and even warmer comfort temperature of -4 C. No more cold tent nights!
For pillow, an easy choice is Sea to Summit Aeros Ultralight, which is one of our most sold products. It is a superior camp pillow with simple functionality, high quality materials and comfortable sleep. It seems like the Aeros pillows don't share the same delamination problems as some of the competitors.
Aeros pillow is the one we use in every one of our own hikes. Regular size is best for most, Large is good for broad-shouldered side sleepers.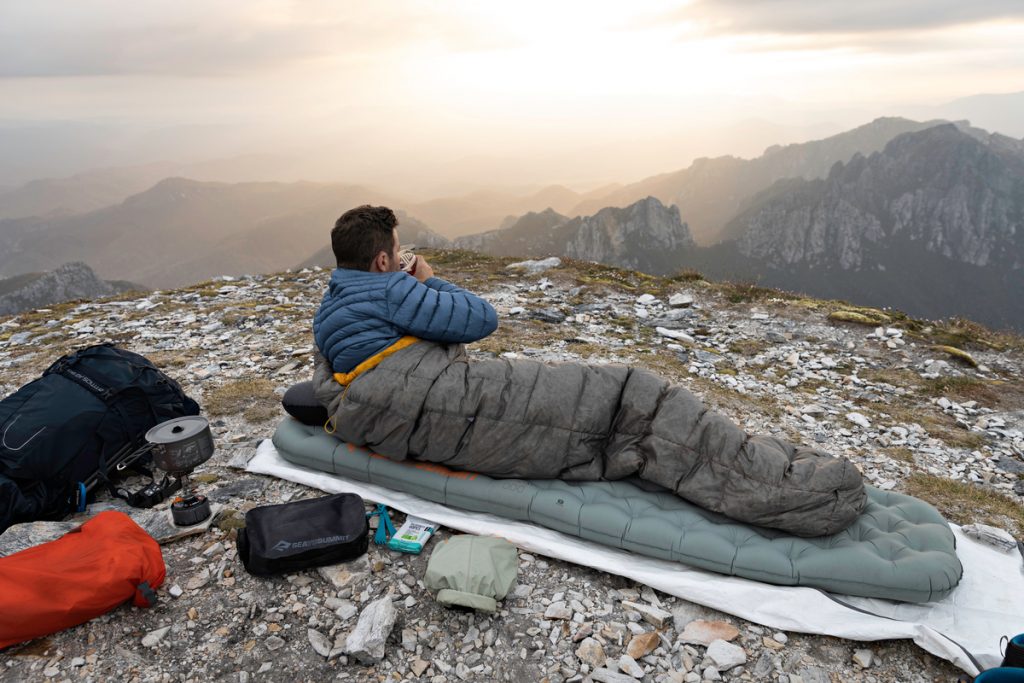 Electronics
The basic hiking electronics include a smartphone, headlamp and a power bank to charge them. You should download a map application for offline maps. In Nordic countries, the apps Oruxmaps, Locus Map, Jahtikartta and Karttaselain are proven applications used by hikers.
Headlamp is carried on every hike. In mid-summer you barely need it, but it could still be useful in huts with small windows. In autumn you will definitely need a headlamp.
The most popular headlamp among ultralight hikers is the Nitecore NU25. It is an excellent combination of lightness, lumens, good battery life and useful features. NU25 has its own battery that can be USB-charged.
Most hikers nowadays carry a power bank. It is good insurance for ensuring your phone and headlamp stays charged. There is an excellent comparison of 115 hiking power banks made by an ultralight hiking enthusiast. The #1 ranked is Nitecore NB10000. This is what we carry on our hikes as well.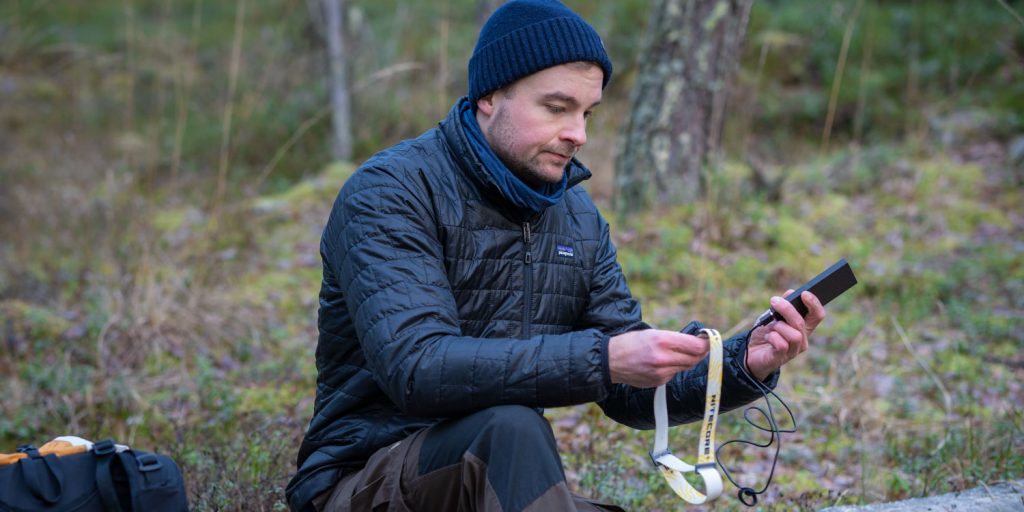 Backpacks
An ultralight backpack can save a ton of weight compared to a traditional backpack. We stock Bonfus backpacks, which are hand-made with precision and an excellent set of features. Bonfus uses a modern Ultra 200 fabric for backpacks, which is the best pack fabric at the moment. We recommend Framus 58L for beginning ultralight hikers and for long treks with a lot of food. The frameless Saccus 48L is an even lighter pack that we also love. These are high quality backpacks on the cutting edge of hiking gear, so you will not be dissapointed.
Accessories that our customers like
Pretty much every other order includes a CuloClean backcountry bidet, which is an excellent tool for keeping you hygiene level high on a hike. This is a product our customers love.
Nylofume bags are another product that is hard to find in Europe. They are an ultralight and cost-effective waterproof liner for your backpack.
We would also be making disservice if we wouldn't mention Darn Tough socks. These are just the best hiking socks there are, bar none. Don't just take our word for it, Google search "best hiking socks" and they are the #1 every time. Darn tough socks are guaranteed for life, and really endure the test of time.
We are adding more product categories all the time. Remember to check the new items on Farlite page or join our newsletter!
Products mentioned in the article